Twice a year at Transform Fitness we run a 12-Week Transformation Challenge where our goal is to educate clients on how they can easily implement successful systems and strategies as a LIFESTYLE change to not only improve how they look but also how they feel and function. We do this by educating our clients on how to use the following success strategies…
– Prime your Metabolism for Success in less than 3 minutes!
– Eat for health, performance & fat loss all at once!
– Learn What the Healthiest People in the World Really Eat!
– Discover the FEONS: Foods Essential to Optimum Nutrition
– Learn how Chocolate, Red Wine & Coffee can be a part of your plan!
– Nutrition Timing: how to make food work for you!
– Prepare entire weeks of gourmet-quality eating in minutes!
– Monitor & contour without counting calories!
– Introduce a better way of eating the whole family will love!
– The 6 Secrets of a Successful Transformation!
– How to avoid the mistakes most people make!
Through these success systems every year we see amazing transformations both physically and emotionally. This year we had 20 highly motivated individuals take on the challenge and some of the results we witnessed have been nothing short of amazing.

Check out below at some of the AWESOME TRANSFORMATIONS that have been achieved by this amazing group…
Meet Dani
Dani shredded an amazing 46cms, 6.5kgs & 9.3% in Body Fat including 13cm's off her hips in ONLY 12 weeks all while working long demanding night shifts!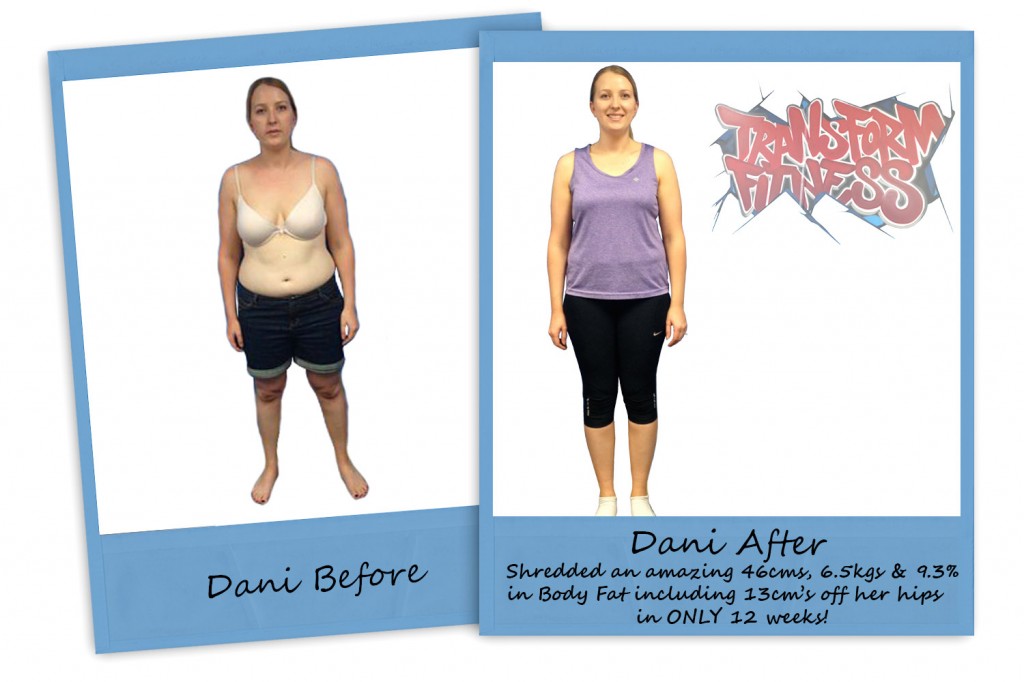 Meet Rodd and Coby
Rodd and Coby are an inspirational couple that decided to do the challenge together and their results were inspirational!
Rodd
Rodd's reason for the joining the challenge was to not only support his wife but to also improve his own health to ensure he would still be around to see his beautiful Grandchildren grow up.
"I had very high blood pressure (215/105), cholesterol & suffer sleep apnoea so it was time do something about it. I have 2 lovely sons and daughter in-laws and 1 beautiful grandson in whom I wish to be around to watch grow up and make them proud of me"
12 weeks later Rodd shredded an amazing 37.5cms as well as 4.9% in Body Fat including 12cm's off his waistline!
"My cholesterol is now fine my blood pressure has come right down. (Around 140/80) without medication & my sleep apnoea has gone from high (60) down to medium (25). My goal weight that I set was to be 75 kg which I was when I was about 17 before I met alcohol and fast food, which became part of my life for the next 33 year on a very regular basis. I am now proud to say that I have achieved that goal weight that I was over 33 years ago!"
Since doing the challenge Rodd's lifestyle has also completely changed.
"Eating healthy is so tasty compared to eating takeaway. I have really enjoyed the food we have eaten and have not eaten takeaway since Jan 2014 (over 6months) and I don't miss it at all! I've learned that u can't out train a bad diet. Eat healthy and exercise and it will all slowly come together and you will get the body you want. Also with exercise I learnt that you don't have to work out for hours every day to get the body you want, just a few days a week 20 to 30 minutes per workout.
At the end of the day it's all up to you to stay true and loyal to yourself and the program and it will work. I know it works as I can see my results as well as my wife's result.
It feels great to put on some nice new clothes and look in the mirror seeing my transformation looking back at me. You know you have done well when friends that you haven't seen for 6 to 12 month don't even recognise you anymore!"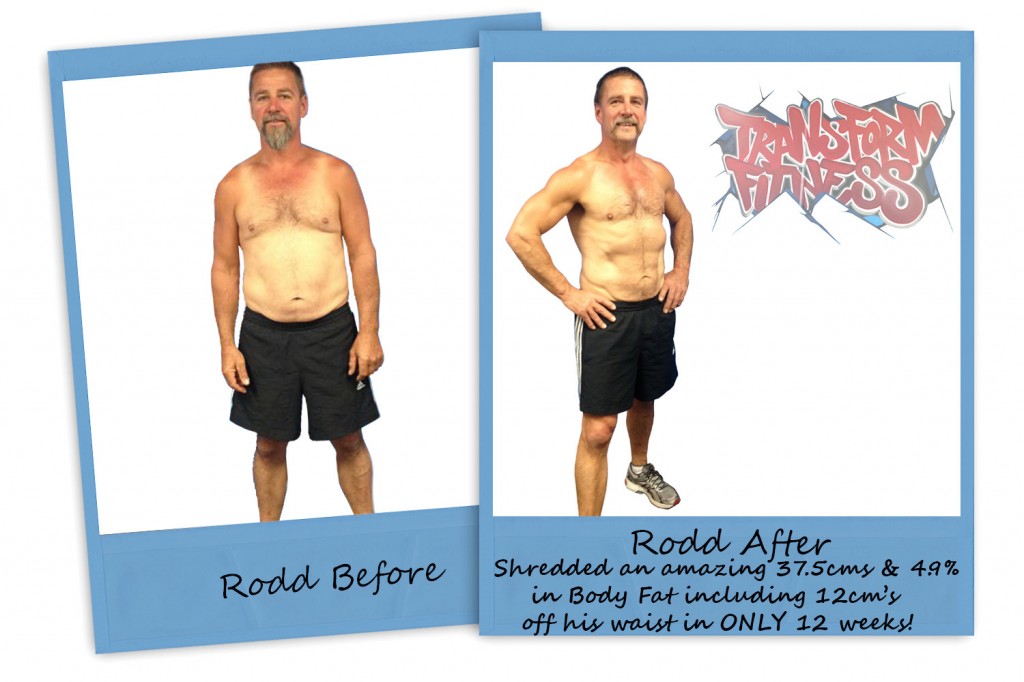 Coby
Coby's journey has not been an easy one and has faced many challenges.
"A few years ago, I still saw myself in the mirror, but I stopped looking at myself. I didn't like the reflection and slowly but surely started convincing myself that what I saw was who I am.
Excuses about my weight became easier and easier. Soon the injuries came which included a prolapsed disk in my neck, arthritis in my lower back and problems with my knees."
The moment it all changed for Coby was when she received a rude wake up call from her Doctor.
"I got a rude wakeup call when my doctor informed me I was pre-diabetic and would soon end up on medication if I didn't at least try to do something about it. With a father whom has battled heart disease since he was in his mid 40's and a mum that had a stroke, my outlook was not the greatest but I knew I needed to change.
I've been on many yoyo diets and decided I did not want to do that again, so I googled PT and met with Transform Fitness. I did the 12 Week challenge to give myself the best chance of permanent success."
12 weeks later Coby shredded an amazing 29cms as well as 3.9% in Body Fat including 9cm's off her waistline!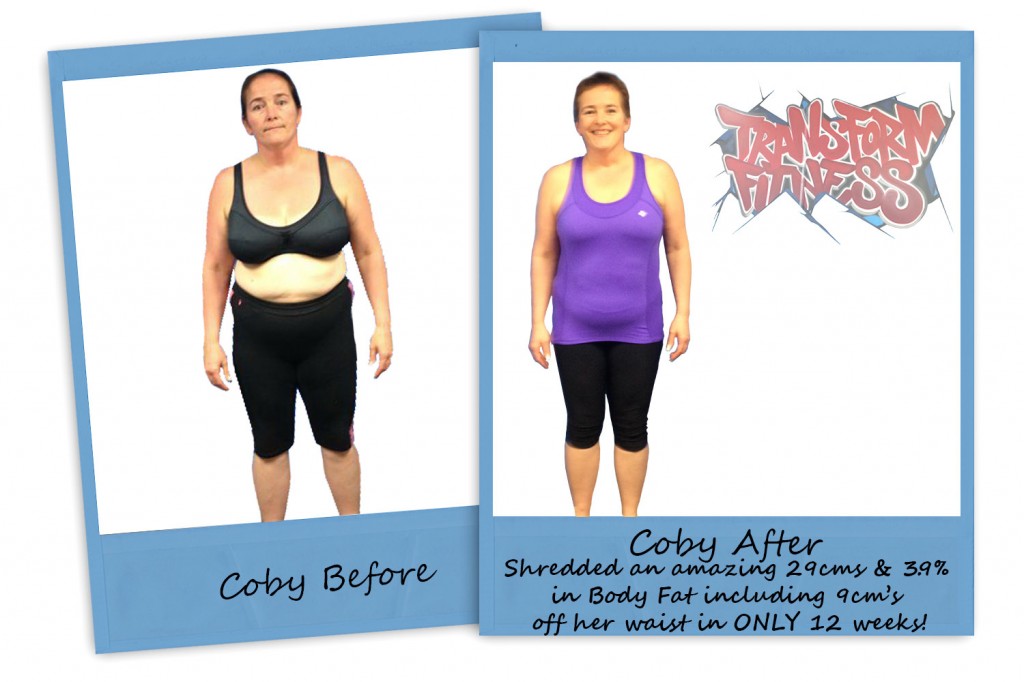 Meet Ben
Ben is an awsome example on the importance of taking action today.
At the 6 week mark of the challenge Ben found himself facing a huge challenge.
At Ben's 6 week assessment he found out that he actually had put on 1kg and 21.5cms.
Ben took responsibility about this situation he found himself in as he knew that these results were a reflection of the effort he had put in as well as the excuses he was using to why he couldn't implement the success strategies he was learning. So after finding out these results instead of quitting he made the decision to let go of the excuses that were holding him back and start today with the mindset of finishing the challenge strong.
This decision lead to him shredding 46cms including 11cm's off his waist in the last 6 weeks of the challenge!
How impressive is that?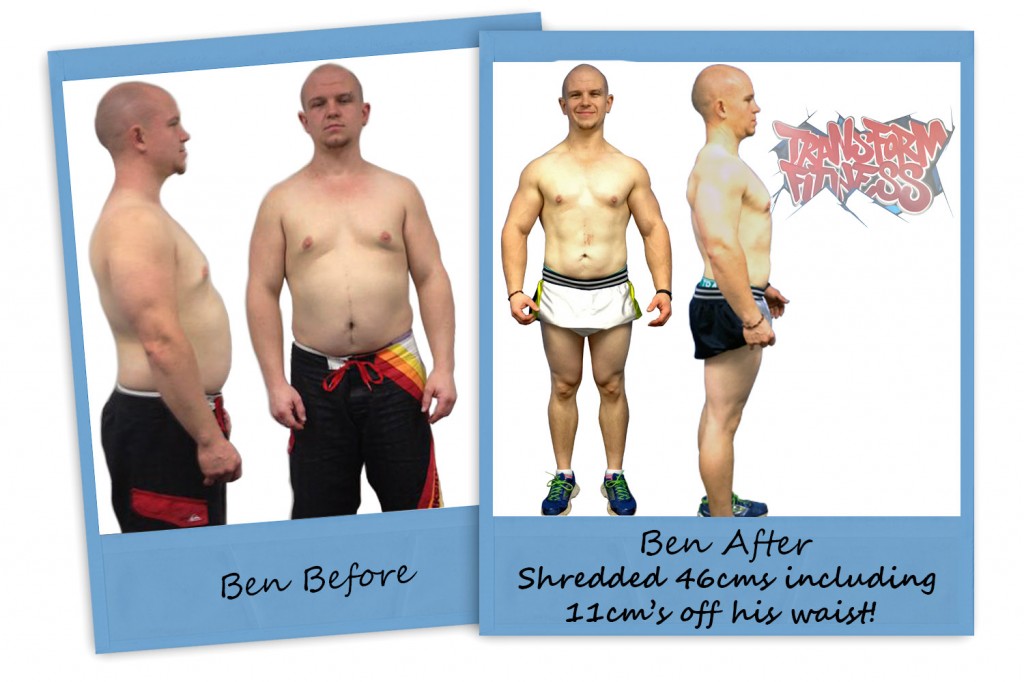 Ben is an awesome example of the statement we teach all of our members which is…
'SUCCESS is a journey, not a DESTINATION'
Congratulations to everyone that participated in this Transformation Challenge as we are all extremely proud of your accomplishments and the challenges you have overcome.