As many of you are aware, back in January we ran our annual 'New Year, New You Challenge' and the end result was AMAZING.
With ONLY 30 spots available for the competition and all of the spots selling out within a couple of days we were rewarded with a tremendous group of highly motivated people looking to make 2013 a NEW YEAR and a NEW THEM!
The result…..

In just 21 Days we saw this talented group achieve an average weight loss of 3.2kg's and over 37cm's!
Did I mention that was just 21 Days!!!
Check out some of these amazing results below.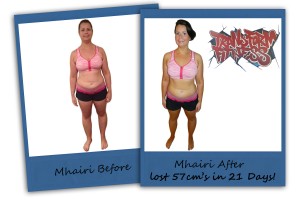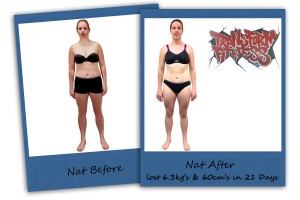 However there was a prize up for grabs and overall winner of the Challenge would receive a brand new 'Apple ipad Mini'. We kept the prize secret until the last week of the Challenge to make sure it was a reward for achieving the 'New You' instead of a distraction from what everyone was really there for.
The winner was judged on the following criteria:
* The overall PHYSICAL Transformation over the 21 Days
* The overall EMOTIONAL & PSYCHOLOGICAL Transformation over the 21 Days
* Their compliance to our 'Healthy Points' System which focused on creating healthy habits over the 21 days
* Their compliance to our 'Success Checklist' System which tracked everyones progress of their training, eating and lifestyle
So after over 2 hours of deliberating between all of the amazing transformations (Yes that's how hard it was to pick a winner out of all the amazing transformations), all of the trainers finally agreed on a standout winner.
So Congratulations to Beck Lawson who was our overall WINNER of the 21-Day NEW YEAR, NEW YOU Challenge for 2013!
Beck's amazing transformation saw her shred 2.9kg's & 35cm's in just 21 days!!!
Beck now is the proud owner of a brand NEW iPad mini for her AWESOME TRANSFORMATION.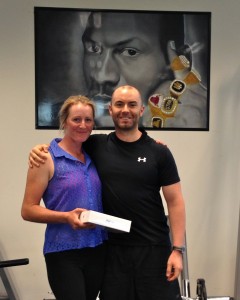 Check out her inspirational results below as well as her own reflection of her personal journey at the bottom of this post. After reading her story you will see just how much of her Transformation she achieved in just 21 Days.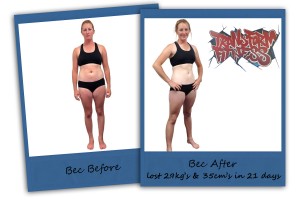 Congratulations to everyone that stood up and took on the challenge this year and ACHIEVED the NEW YOU in 2013!
P.S. If you were one of the unlucky people that missed out on joining our 21-Day Challenge or are still looking to kick-start your weight loss goals this year then check out our special 16-Day Program we currently have available for a limited time.
Check it out here ====> 16-Day Accelerator Program
P.P.S. Don't forget to read Beck's inspirational journey below
Beck's New Year New You Challenge Reflection
"It's hard to believe it's only been 21 days (3weeks). I began this challenge with typical goals, to lose centimetres and improve my eating habits. What I didn't plan for was the emotional and mental growth and minor achievements along the way, but also the mental hurdles that would arise.
When I joined the challenge I was so concerned about how I would be perceived. I was scared of being the outcast or the girl who didn't need to be here. But I want to open myself up now and tell you how welcome everyone has made me feel and thank everyone for their support even if you didn't realise you were giving it. I may not have started with a large number of kgs to lose on the scales but I did commence with some big fears and a destructive mindset.
Right from the beginning I faced some of my biggest fears. The thought of eating 5 meals a day all including carbs, fat and protein was quite a mental struggle even the thought caused tears and great angst, as I have always followed the belief that if  I consumed less then I expend in a day then I can only lose weight. With the increase in meals I've not only had more energy daily but been able to train harder and more often. Talking about training brings me to another fear prior to the challenge and that was training in a group. I found this quite daunting and was worried about being judged by others or not fitting in. I've always obtained my self worth from how others perceived me and judged me. Boot camp has been fantastic and helped me grow as a person slowly improving my self confidence and also my fitness.
During the first two weeks of the challenge I saw some great minor achievements and for those of you who followed the face book group I named some of them on there. Things like better skin and hair, increased energy, happier stomach (less bloating and more regular) and enjoying food rather than regretting the choices I've made. I want to acknowledge these little things as they helped me stay focused along the way.
For me week one really cemented my eating habits and training and as week two commenced I began to find these two components had become easier and almost natural. So at the beginning of the second week I announced I would concentrate on my mindset… this was a statement that I know like the back of my hand. Why? Because I'm sure I've said it more times then I wish to disclose. But like always I thought saying it was enough.
By Tuesday of week 3 I did finally break during one of my one-on-one training sessions and after a talk with Liam, saw me actually beginning to put these words into practise. I've always found emotion a sign of weakness and as time has gone on I'd finally overflowed my bucket with thoughts and feelings I'd rather hide and dismiss than own and deal with. It was time to admit sitting on the change room floor of just jeans crying because the jeans didn't fit or wearing a ruby on a 30 degree day is something I need to deal with. But admitting this has only taken me two countries and 5 towns and the loss of my dream job to end up realising that running away or changing my address isn't the answer… as that little man on my shoulder seems to have a passport too.
So let me finish my reflection on a good note… during the past 21 days I've lost a total of 34cms and 2.9kgs. For the first time ever I stepped off the scales with tears of joy and accomplishment rather than self disgust and frustration. I also found a humbling acceptance and new relationship with food, reignited my love of exercise and sweat and most of all started a new chapter of health this time including my mind and emotions. Thank you so much to the team at Transform Fitness for you support, patience and wisdom. Thank you to all the other challengers your comments and support made me feel "normal" and welcome. Well done to everyone who participated if nothing else know, you all inspired me!"
-Beck (inspired and converted)