Meet Adrian
Adrian first came to TFF with a goal to lose cms off his stomach and decrease his weight which at the time was around 119kg.
Like so many others the fear of having to give up all of the foods that he loved was preventing him from achieving his true success. Although Adrian knew changes need to be made and had already started to make small changes to his lifestyle which had seen him lose 4 kgs through running with his friends and making small changes to his diet.
However Adrian noticed that the weight has stopped coming off. He knew he needed help and was attracted by the holistic approach TFF offers to help give him the accountability, guidance and support he needed to take his weight loss efforts to the next stage.

And the next stage is exactly what Adrain Achieved!
Fast forward to today and Adrian has lost over 23kgs and over 14cms off his waistline.
Check out Adrian's Amazing TRANSFORMATION below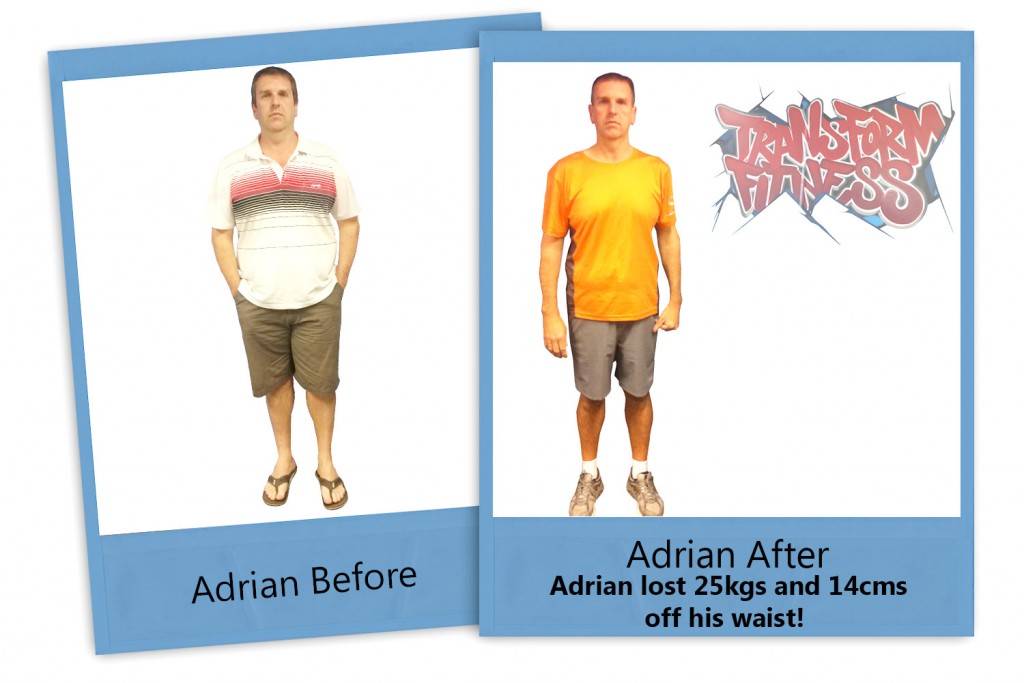 Although these physical results are extremely impressive the changes to Adrian's overall health are what has been the most valuable.
Adrian now experiences more energy throughout the day, a greater level of fitness to do everyday things which had become a challenge previously and had also got to enjoy the improved self confidence of having to buy a whole new wardrobe as none of his clothes fits him anymore (although Adrian does state that it has cost him a bit of money)
In Adrians words he now feels "I feel more confident and definitely needing new clothes certainly makes me feel happier in my appearance.  I feel more in control – weird but thats just how I feel, I am controlling how much I am eating and exercising."
Adrian next goals besides to keep dropping more weight is to:
1) develop that elusive 6 pack!
2) to be able to do a Chin Up!
Adrian's TOP 2 TIPS To Anyone Wanting To Lose Weight
1) First start thinking about eating right and understand that nutrition is the KEY to your SUCCESS!
2) Find a workout program that works around your schedule and stick to it no matter how hard your work/life schedule is!
(Adrian has to train at 6am in the mornings due to having to be at work at 7am and doesn't get home till 7.30pm at night because of this Adrian knows that if he doesn't train in the morning it won't happen so he makes sure that no matter what he gets to his morning sessions to stay on track with his goals)
Adrian achieved these results using our ICE Training System.
Transform Fitness uses Research Based, Scientifically Proven Training Methods to achieve amazing Transformations with every client. 
If you would like to learn how you could achieve results like Adrian did and how you could easily implement these systems into your own lifestyle then CONTACT US today for a FREE 7 Day Test-Drive!