A School Teacher, Husband and a Proud Father, meet the Inspirational Phillip Chrimes…
Fast approaching 50, Phil knew he had to change his lifestyle to improve his health as things that once came easy to him had now become a everyday challenge.
The breaking point for Phil was when one day sitting at home he was attempting to put on his shoes but had to stop to catch his breath because bending over and reaching his feet was too difficult. In Phil's own words "This really hit me with how bad I had become with my weight and fitness, I knew I needed to change."
So Phil employed the services of Transform Fitness to help support him on this lifestyle journey, then the Teacher became the Student and the results have been amazing!
Like everyone else Phil was faced was many challenges on his journey, from overcoming the physical challenge of an existing back injury as well as the emotional challenge of overcoming the FEAR holding him back.
"In the beginning the biggest obstacle was training with others who were already fit. I felt embarrassed about how overweight and unfit I was. There was a sense of fear with coming into the Studio, a fear I knew I had to overcome If I was going to change.
I still remember the first day at ICE Training, we had just finished the warn up but I was already stuffed I had no idea how I was going to do the whole session. I just persevered and said to myself If I just keep getting myself here things will change."
Change they did, fast forward to today and Phil has Lost over 11.6kgs & over 59cms including 17cms off his waist!
Check out Phil's Amazing TRANSFORMATION below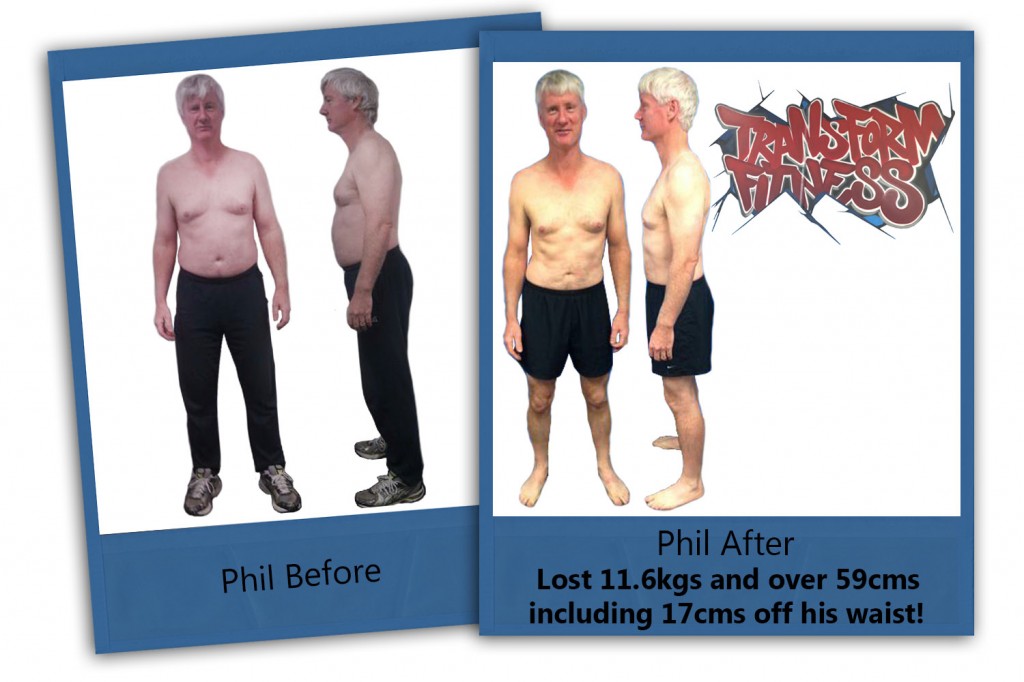 Although these physical changes are a medal of Phil's commitment and dedication the most valuable achievements have been his change in mindset and lifestyle.
"The #1 goal I'm most proud of is being able to be consistent and make it a life style and not just a passing fad. This has made me feel more in control because I have managed to control my weight and control my lifestyle.
This was so important because I was becoming prematurely old, I still want to do a lot of things in life and I need the energy and vitality to do them, I'm getting closer to retirement and want to be able to do the things I dream of, I don't want to get to retirement and be too old and out of shape to live life properly. I want a future."
Phil was asked want did he think would of happened if he had never made the decision to CHANGE and get the support he needed.
"If I had never started I would have continued to gain weight and it would eventually impacted my health in a more serious way, who knows, bad joints, diabetes you name it I was headed there. The worse I felt the more I would eat and the less I would do.
Making that decision has resulted in me changing body shape, I feel far more flexible and strong when I play golf or go sailing or skiing, I'm able to do it well enough to enjoy it. I have really noticed the influence I have had on people around me, without saying anything to them. Now people I work with or play sport with and family have noticed the difference and some have felt inspired to start there own journey. This makes me happy for them and that I can now share more of my own journey with those people."
Congratulations Phil on amazing Transformation not only physically but also mentally. The positive changes you have made to your lifestyle has inspired more people then you know.
Transform Fitness uses Research Based, Scientifically Proven Training Methods to achieve amazing Transformations with every client. If you would like to learn how you could achieve results like Phil did and how you could easily implement these systems into your own lifestyle then CONTACT US today for a FREE 7 Day Test-Drive!