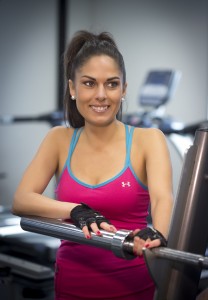 Being a Personal Trainer is one of the most fulfilling experiences that I have ever embarked upon. Not only  because I get the opportunity to share in a members journey of life style change and watch them go into battle with themselves to emerge a true warrior …
But also, because it keeps me grounded and inspires me to be better then the person I was yesterday.
Week after week, I found myself engaging in conversation with a Mother who would sit on our couch waiting for her son to finish Personal Training with us. She looked so tired and drained …
The kind of look I see on those who move heaven and earth for everyone else in their lives but them selves!
After speaking with the Trainer who trains her son, I decided to inspire this Mother to train when her son does , why not?
Before I knew it we were working as a team!?
Before I knew it, I could see physical results EVEN before her 6 week assessment!?
Before I knew it, I could hardly recognised the tired and drained Mother I first met!
I thought, WOW, this Mum kicks arse!
Why?
Because this Mum at no point has ALLOWED her story to dictate her actions, thoughts, decision making and speech!?
Because this Mum has the WANT and DESIRE to create a life style change!?
Because this Mum doesn't even have the word EXCUSE in her dictionary!
You see her son whom we also train has challenges of his own, in fact, so does her daughter. They are legally blind and encompass additional health issues, so not only is her life style hectic and can be unpredictable, but she has two children who are utterly and completely dependant upon her!
But you will never hear about it, nor have they ever been used as an excuse to sabotage her success!
This Mum I speak of is Margot DuVe. I have accompanied Margot on her journey of life style change for just over 18 weeks now and in that time, Margot has reaped the benefits of her commitment and investment to her health and fitness.
In less then 18 weeks, Margot now walks to the beat of her own drum, she has adopted a new and improved mindset, created new habits that work with her not against her and has lost a massive 5.8kgs and over 51.5cm!!!!!!!!!!
Margot now understands that her decisions create the environment in which she lives. Previously the environment in which she created was unhealthy, inactive and came with consequences to her wellbeing!
Now Margot has created a new environment where she is living a healthy and active life style that continues to reward her in many ways, "You can't solve a problem with the same mind that created it."
Check out Margot's Amazing Transformation & Story Below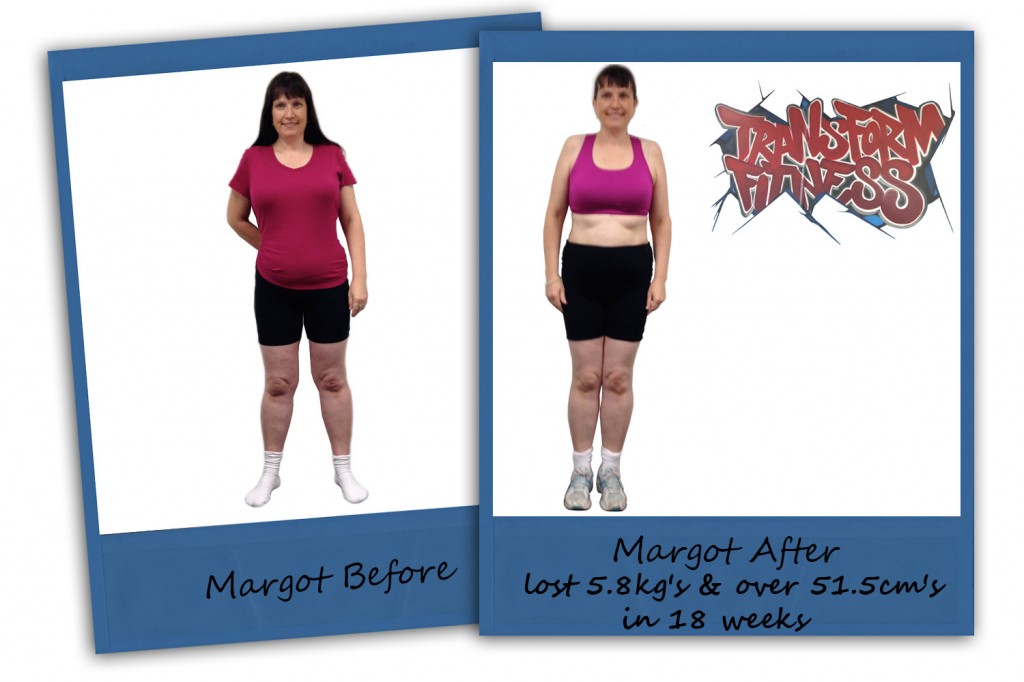 "My name is Margot. I am a mother of two children with disabilities. I could never find time for me until my son started to come to Transform Fitness for his PT sessions.
During this time I would either sit and watch him or fall asleep on the comfy couch. Until I realised I could make good use of the time and do something for me.  I would always say I wanted to lose weight and get fit but would take no action.
Well I have now been with Transform fitness for 4 mths in this time I have lost 5.8kgs and 51cms. I have one Personal Training session a week….. I feel more energetic, are able to deal with family life situation better and most of all family and friends have noticed the change in me. This has helped me feel good about myself.
The Transform fitness staff is friendly and full of knowledge, they take an interest in you as an individual. They help design an exercise program that fits in with your day to day life as well as helping to keep you on track with your nutrition; we also have laughs and giggles too. Their always there to help work through any situation that arises. They become part of your family.
I would like to take this opportunity to thank Syndi for all the hard work, support and keeping me accountable at all times. Helping me achieve my goals."
Margot D,          Age 46
(written by TF Personal Trainer Syndi Wilson)